Successfully Re-engineered for Maximized Benefit
The new compact longitudinal plate saw LPS-T with vertical bandsaw blade has proven a resounding success. Behringer GmbH put its proven specialist machine for toolmaking, test cutting, and for small parts and blocks on the test stand and implemented a number of user-friendly variations of some of its features. The new LPS T vertical bandsawing machine has emerged significantly matured and ideally equipped to meet the challenges of the future.

The LPS-T comes with a linear guided material table with a support surface of 1260 x 1260 mm which allows flexible positioning and clamping of the material to be cut. This is achieved using T-grooves in the table which enable the optimum positioning of fixtures or clamps.

A new feature is the optional NC measuring device which significantly simplifies set-up processes. After entering the required cutting depth, the measuring device enables automatic positioning. The material can be rapidly placed and aligned, ensuring greater flexibility and higher precision during the day-to-day work of the machine.

Both the panel saw and the NC measuring device are controlled by an ergonomically designed and easy-to-operate touch control panel. The self-explanatory symbol-based menu system makes for faster familiarization of new operators and simplifies machine handling.

Saw feed in the LPS-T takes place using ball screws with servo drive. A cutting pressure control system links the servo feed to a sensitive cutting pressure regulation system. This produces a constant level of chip removal, overall higher cutting outputs than is possible using conventional systems and reliable overload protection of the saw blade. The result: reduced cutting costs due to a longer bandsaw service life.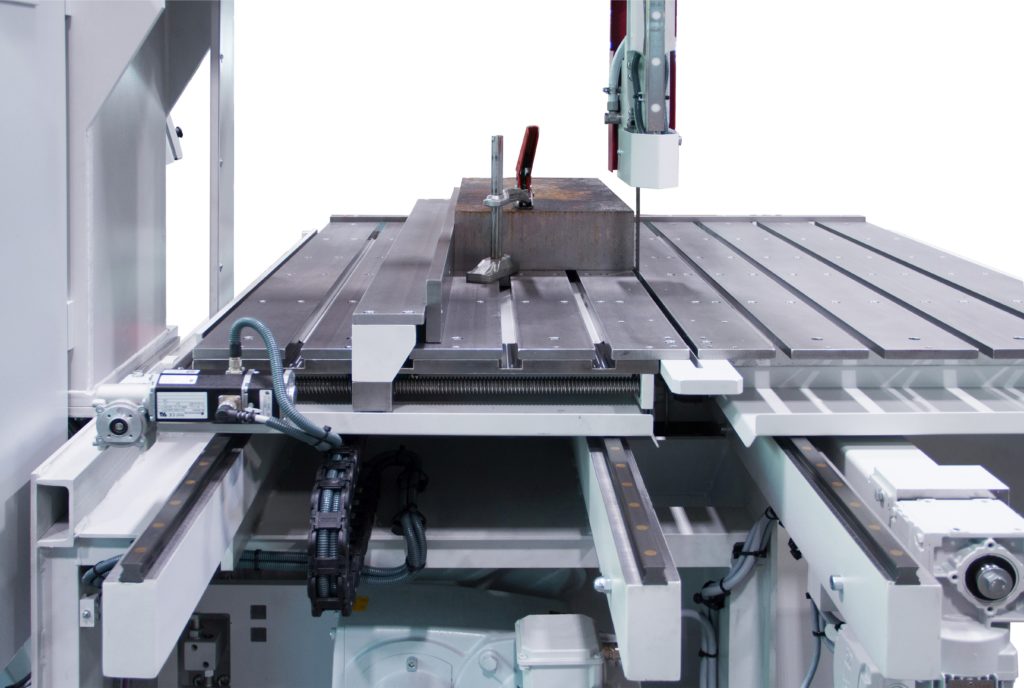 The bimetal or carbide saw blade is driven as standard at 4 kW and runs over wear-proof band wheels. All blade guidance parts are made of vibration-proof grey cast iron. Bandsaw changeover has also now been made even easier, and can be completed in around two minutes without the aid of tools by a single operator.

Electrically powered chip brushes arranged on both sides clear the saw blade of adhering chips synchronously to the bandsaw speed – a substantial benefit when it comes to maximizing blade service life. The machine is fitted as standard with a cooling lubricant system for feeding emulsion, and an environmentally friendly micro-dispensing device can be additionally mounted.

Source: Wire and Tube News