China International Tube Industry Development Seminar 2020
Date: 23-24 September, 2020
Location: Tech Stage (Booth No. E1-G24), Hall E1, SNIEC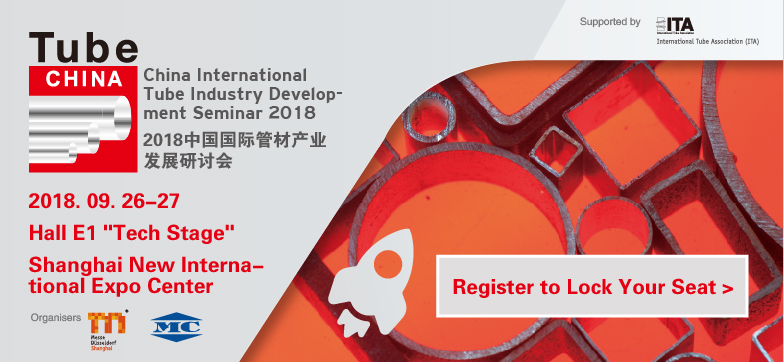 >
Click HERE to reserve your seat!
FREE of Charge
With the policy of 'the 13th Five-year Plan', Chinese tube industry has been under new stage of technology innovation with higher quality, more advanced technique, and more energy-saving efficiency. Therefore some problems including over-capacity, high cost, capital risk and environment restriction are still big challenges in front of us.
How will Chinese tube industry adapt to supply revolution policy? How to realize structural update? How to face the challenge of environmental protection? How to reformulate industry standard?
The forum is held concurrently with Tube China 2018, aiming to build the best platform to promote industry transformation, boost technology innovation and promote international cooperation.
Day 1: 26th September 2018 (Wednesday)
Time
Topics
Speakers

10:00 - 10:30

The Performance and Prospects of China's Steel Industry

Mr. Liu Zhenjiang, Secretary General, China Iron and Steel Association (CISA)

10:30 - 11:00

Introduction on Global Tube Market

Mr. Hans-Jörg Braun, Honorary Treasurer and Member of ASC, International Tube Association e.V.

11:00 - 11:30

The Development Status and Updates of China Steel Pipe Industry

Mr. Zhuang Gang, Senior Consultant, China Steel Pipe Association

11:30 - 12:00

The Development Situation and Market Prospect of
Oil & Gas Pipe

Mr. Wang Xu, Deputy Director, CNPC Bohai Equipment Manufacturing Co., Ltd. Research Institute

12:00 - 12:30

The Development Situation of City Underground Pipeline Industry

Mr. Wang Feng, Deputy Director , Underground Pipeline Committee of China Association of City Planning & Vice President, Shanghai Urban and Rural Construction and Transportation Development Research Institute

12:30 - 14:00

Lunck Break

14:00 - 14:30

Present Status and Development of International
Top Pipe Manufacturers

Mr. Wu Lei, Market Researcher, Tianjin Pipe (Group) Corporation

14:30 - 15:00

How to Get Back to Profit with Future-Oriented Solutions for Competitive Tube Plants from SMS

Mr. Benjamin Keim, General Manager,
Long Products & Forging Plants, SMS Group China

15:00 - 15:30

3-D Surface Inspection in Production of Seamless Tube

Mr. Burkhard Schöttler, Sales Manager of Tube Division, IMS Messsysteme GmbH

15:30 - 16:00

High-Performance Production Cell for Premium Coupling Blanks

Mr. Hans-Jörg Braun, Managing Director,
Reika GmbH & Co. KG

16:00 - 16:20

Rotoweld 3.0: High Quality & Productivity for the Pipe Spool Shops

Mr. Owen Wang, Manager, Tecnar Automation Ltd

Day 2: 27th September 2018 (Tuesday)
Time
Topics
Speakers

10:00 - 10:30

A Permanent Solution to Municipal Water Distribution — Partial Corrugated Water Tube

Mr. Philip Song, Chief Representative of China, Nickel Institute

10:30 - 11:00

Strengthening the Steel Pipe Standard System and Accelerating the Transformation & Upgrading of the Steel Pipe Industry

Mr. Cheng Haitao, Director of Steel Pipe Subcommittee of China Steel Standardization Committee

11:00 - 11:30

The Development Status and Prospects of Boiler Tubes

Ms. Luo Suzhen, Chief Researcher, Tube & Pipe Technology Center, Research Institute, Baoshan Iron & Steel Co., Ltd.

11:30 - 12:00

Tenaris Strategic Positioning and OCTG Market Analysis

Ms. He Zhiyi, Senior Market Analyst, Tenaris

12:00 - 12:30

Build a "Highly-Efficient and Low-Power-Consumption" Steel Pipe Supply Chain via
E-Commerc

Mr. Song Chunlei , General Manager, Beijing Lange E-Commerce Co., Ltd.

12:30 - 14:00

Lunck Break

14:00 - 14:30

Innovative Radar Technology for Online Quality Control of Tubes and Pipes

Mr. Knut Sieling, Business Development and Sales Manager, Sikora AG

14:30 - 15:00

COPRA® ProfileScan Desktop - Quality Control for a Sustainable Competitive Advantage

Dr. Krzysztof Szarowicz, Design Engineer,
Data M Sheet Metal Solutions GmbH

15:00 - 15:30

Research on Springback Mechanism and Intelligent Control of Ultra High Strength steel in Roll Forming Proces

Mr. Han Fei, Professor,
North China University of Technology

15:30 - 15:50

LUT: Novel Signal Processing of On-line Wall Thickness Gauge Profiles for Production Monitoring of Hot Seamless Steel Tube Plants.

Mr. Owen Wang, Manager,
Tecnar Automation Ltd
* Info. as of 17 September 2018, the actual agenda shall prevail to onsite.
Regsiter the seminar now to lock your seat.
Contact us
Messe Düsseldorf (Shanghai) Co., Ltd.
Ms. Juliet Zhu / Ms. Serena Liu
Tel.: +86 21 6169 8331 / -8318
Fax: +86 21 6169 8301
Email: tube@mds.cn
International Tube Association e. V.
Jennifer Kranz
Mobile: +49 1590 4459871
Email: jennifer.kranz@itatube.org