wire 2018 and Tube 2018 enjoy stable investment climate: Industries look to the metal trade fair summit in April 2018 with optimism
The wire, cable und tube industries look to the future with high expectations. Rising investment on global markets make for high spirits in the steel industry worldwide.
16 to 20 April 2018 will see the world's No. 1 trade fairs wire, the International Wire and Cable Trade Fair, and Tube, the International Tube and Pipe Trade Fair, open their doors again at the Düsseldorf Exhibition Centre to present innovative technologies, new machinery and plants as well as products and services from the sectors.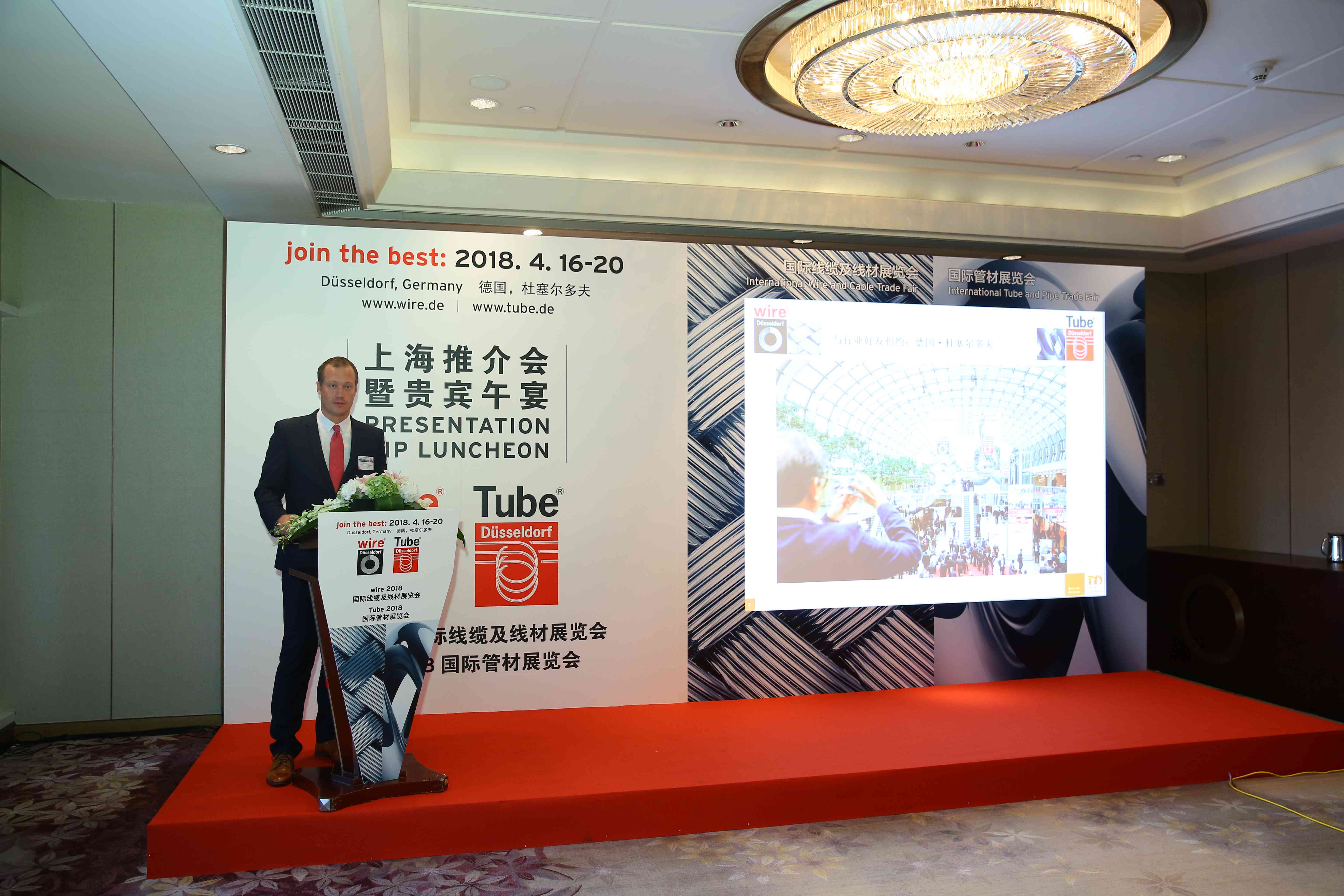 wire & Tube 2018 Shanghai Presentation was held on 31 August 2017. Mr. Daneil Ryfisch, Global Portfolio Deputy Director of Metals and Flow Technologies of Messe Düsseldorf GmbH, gave a presentation onsite.
wire 2018 and Tube 2018
In excess of 2,600 key players from the industry will present innovations from the wire, cable and pipe industries on 110,000 square metres of net exibition space in 15 halls over 5 trade fair days. With these figures the Düsseldorf trade fairs impressively confirm their No.1 positions as leading trade fairs for the sectors wire, cable and pipes.
wire 2018 will be held in exhibition halls 9 to 16. On display will be machinery and equipment for wire manufacturing and finishing, process technology tools and auxiliary materials for process engineering as well as materials, special wires and cables.
In addition to this, innovations from the areas of measuring and control technology as well as test engineering and specialist areas will be on show. There will be an even stronger focus on glass fibre cables. With this move Messe Düsseldorf responds to the increasing use of fibre glass cables in the energy, construction and communications sectors.
The segments wire, cable and glass fibre machinery will be presented in Halls 9 to 13 and 16 with Fastener Technology following on from this area in Hall 15. Mesh Welding and Spring Making can be found in Hall 13.
Traditionally well represented at wire are exhibitors from Italy, Belgium, France, Spain, Austria, the Netherlands, Switzerland, Turkey, Great Britain, Sweden and Germany. From overseas many companies are expected to come from the USA, South Korea, Taiwan, India and China.
Tube 2018 will be presented in Halls 3 to 7.0 and Halls 16 and 17. Its extensive ranges include machinery and plants for pipe and tube production, finishing and processing as well as raw materials, tubes and accessories, second-hand machinery, process technology tools, auxiliary materials, measuring and control technology as well as test engineering.
These ranges are complemented by pipeline and OCTG technology, profiles and machinery as well as plastic tubes. In response to the sustained high demand from China this event will once again host a China Pavilion. Under the heading "Meet China's Expertise" Chinese companies from the wire, cable and tubeand pipesectorswill be presented in Hall 16.
Tube accessories are located in Hall 17, tube trade and tube manufacturing can be found in Halls 3 and 4, tube bending and forming technology follows on in Hall 5. Machinery and plants as well as tube and pipe processing machinery are on display in Halls 6 and 7a. Profiles and plastic tubes can be found in Halls 3 to 7.0 as well as 16 and 17.
At Tube the countries represented with most exhibitors are also Italy, the Netherlands, Spain, Turkey, France, Great Britain, Austria, Switzerland, Poland and Germany. Most overseas exhibitors will come from India, the USA, China and South Korea.
For current information on the two trade fairs go to their Internet portals:
www.wire.de
and
www.Tube.de
Your Press Contact 2018:
Petra Hartmann-Bresgen M.A.
Ulrike Osahon
Tel: +49 (0)211/4560-541/-992
Fax: +49 (0)211/4560-87 541
Email: HartmannP@messe-duesseldorf.de